API 602 swing check valve
Product Detail
Materials
Product Tags
RODUCT RANGE:
Size: NPS 1/2" to NPS 2" (DN15 to DN50)  
Pressure Range: Class 150, Class 300, Class 600, Class 800, Class 900, Class 1500, Class 2500
Temperature: According to material
End Connection: BW, SW, NPT, RF, FF, RTJ
Operation: None
MATERIALS:
Forged: A105, A182 F304, F304L, F316, F316L, F51, F53, A350 LF2, LF3, LF5 and others
STANDARD:
Design and Manufacture: API 602,ASME B16.34,BS 5352
Face to Face: MFG'S
End Connection: 
Flange Ends to ASME B16.5, ASME B16.47, MSS SP-44 (NPS 22 Only)
- Socket Weld Ends to ASME B16.11
- Butt Weld Ends to ASME B16.25
- Screwed Ends to ANSI/ASME B1.20.1
Test and Inspection: API 598
Fire safe design: API 6FA, API 607
Also available per : NACE MR-0175, NACE MR-0103, ISO 15848
Other: PMI, UT, RT, PT, MT
Design Features:
1.Forged Steel,Piston,Ball or Swing type
2.Integral Body Seat for Piston and Ball Check valves
3.Separated Seat Ring design for swing check valves
4.Spiral Wound Gasket or Oval Ring Joint gasket
5.Reduced Bore or Full Port,
6.T-Pattern or Y-Pattern,
7.Socket Welded,Threaded,Butt Welded,Flanged End.
Structure of API602 swing check valve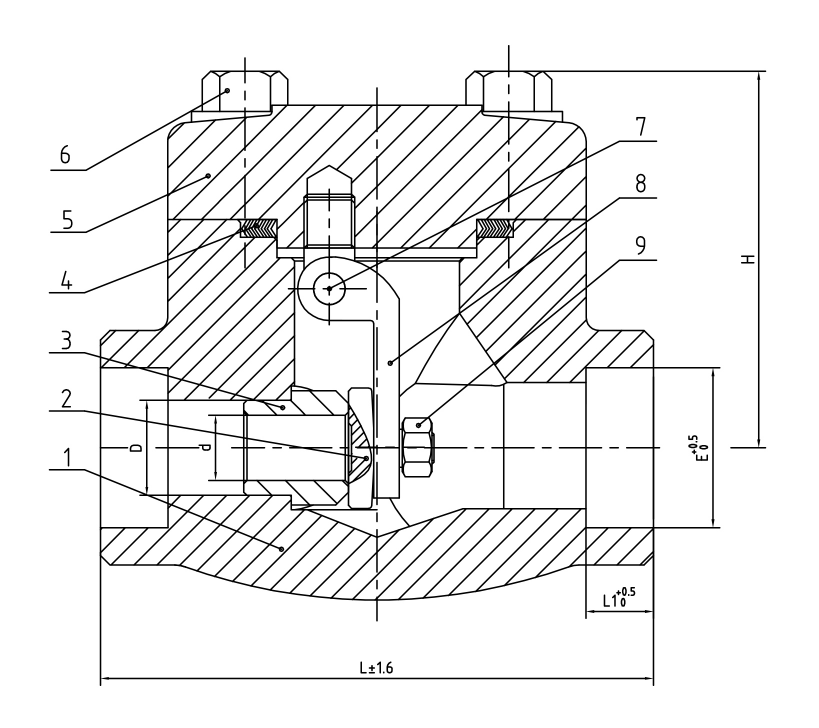 ---
Previous:
API 602 piston check valve
---
Newsway Valves Materials
NSW valve body and trim material can be offered in Forged type and Casting type. Next to stainless and carbon steel material, we also manufacture valves in special materials such as titanium, nickel alloys, HASTELLOY®*, INCOLOY®, MONEL®, Alloy 20, super-duplex, corrosion resistant alloys and urea grade materials.
Available materials
| | | | | |
| --- | --- | --- | --- | --- |
| Tradename | UNS nr. | Werkstoff nr. | Forging | Casting |
| Carbon steel | K30504 | 1.0402 | A105 | A216 WCB |
| Carbon steel |   | 1.046 | A105N |   |
| Low Temp Carbon steel | K03011 | 1.0508 | A350 LF2 | A352 LCB |
| High Yield steel | K03014 |   | A694 F60 |   |
| 3 1/2 Nickel steel | K32025 | 1.5639 | A350 LF3 | A352 LC3 |
| 5 Chrome, 1/2 Moly | K41545 | 1.7362 | A182 F5 | A217 C5 |
| 1 1/4 Chrome, 1/2 Moly | K11572 | 1.7733 | A182 F11 | A217 WC6 |
|   | K11597 | 1.7335 |   |   |
| 2 1/4 Chrome, 1/2 Moly | K21590 | 1.738 | A182 F22 | A217 WC9 |
| 9 Chrome, 1 Moly | K90941 | 1.7386 | A182 F9 | A217 CW6 |
| X 12 Chrome, 091 Moly | K91560 | 1.4903 | A182 F91 | A217 C12 |
| 13 Chrome | S41000 |   | A182 F6A | A351 CA15 |
| 17-4PH | S17400 | 1.4542 | A564 630 |   |
| 254 SMo | S31254 | 1.4547 | A182 F44 | A351 CK3MCuN |
| 304 | S30400 | 1.4301 | A182 F304 | A351 CF8 |
| 304L | S30403 | 1.4306 | A182 F304L | A351 CF3 |
| 310S | S31008 | 1.4845 | A182 F310S | A351 CK20 |
| 316 | S31600 | 1.4401 | A182 F316 | A351 CF8M |
|   | S31600 | 1.4436 |   |   |
| 316L | S31603 | 1.4404 | A182 F316L | A351 CF3M |
| 316Ti | S31635 | 1.4571 | A182 F316Ti |   |
| 317L | S31703 | 1.4438 | A182 F317L | A351CG8M |
| 321 | S32100 | 1.4541 | A182 F321 |   |
| 321H | S32109 | 1.4878 | A182 F321H |   |
| 347 | S34700 | 1.455 | A182 F347 | A351 CF8C |
| 347H | S34709 | 1.4961 | A182 F347H |   |
| 410 | S41000 | 1.4006 | A182 F410 |   |
| 904L | N08904 | 1.4539 | A182 F904L |   |
| Carpenter 20 | N08020 | 2.466 | B462 N08020 | A351 CN7M |
| Duplex 4462 | S31803 | 1.4462 | A182 F51 | A890 Gr 4A |
| SAF 2507 | S32750 | 1.4469 | A182 F53 | A890 Gr 6A |
| Zeron 100 | S32760 | 1.4501 | A182 F55 | A351 GR CD3MWCuN |
| Ferralium® 255 | S32550 | 1.4507 | A182 F61 |   |
| Nicrofer 5923 hMo | N06059 | 2.4605 | B462 N06059 |   |
| Nickel 200 | N02200 | 2.4066 | B564 N02200 |   |
| Nickel 201 | N02201 | 2.4068 | B564 N02201 |   |
| Monel® 400 | N04400 | 2.436 | B564 N04400 | A494 M35-1 |
| Monel® K500 | N05500 | 2.4375 | B865 N05500 |   |
| Incoloy® 800 | N08800 | 1.4876 | B564 N08800 |   |
| Incoloy® 800H | N08810 | 1.4958 | B564 N08810 |   |
| Incoloy® 800HT | N08811 | 1.4959 | B564 N08811 |   |
| Incoloy® 825 | N08825 | 2.4858 | B564 N08825 |   |
| Inconel® 600 | N06600 | 2.4816 | B564 N06600 | A494 CY40 |
| Inconel® 625 | N06625 | 2.4856 | B564 N06625 | A494 CW 6MC |
| Hastelloy® B2 | N10665 | 2.4617 | B564 N10665 | A494 N 12MV |
| Hastelloy® B3 | N10675 | 2.46 | B564 N10675 |   |
| Hastelloy® C22 | N06022 | 2.4602 | B574 N06022 | A494 CX2MW |
| Hastelloy® C276 | N10276 | 2.4819 | B564 N10276 |   |
| Hastelloy® C4 | N06455 | 2.461 | B574 N06455 |   |
| Titanium GR. 1 | R50250 | 3.7025 | B381 F1 | B367 C1 |
| Titanium GR. 2 | R50400 | 3.7035 | B381 F2 | B367 C2 |
| Titanium GR. 3 | R50550 | 3.7055 | B381 F3 | B367 C3 |
| Titanium GR. 5 | R56400 | 3.7165 | B381 F5 | B367 C5 |
| Titanium GR. 7 | R52400 | 3.7235 | B381 F7 | B367 C7 |
| Titanium GR. 12 | R53400 | 3.7225 | B381 F12 | B367 C12 |
| Zirconium® 702 | R60702 |   | B493 R60702 |   |
| Zirconium® 705 | R60705 |   | B493 R60705 |   |
Write your message here and send it to us