CD4MCU wafer butterfly valve
Product Detail
Materials
Product Tags
CD4MCU wafer butterfly valve
Key works: CD4MCU, wafer, butterfly, valve, class 150, class 300, stainless, steel.
PRODUCT RANGE:
Sizes: NPS 2 to NPS 96
Pressure Range: Class 150 to Class 1500
Flange Connection: Wafer,RF, FF, RTJ
MATERIALS:
Casting CD4MCU, (A216 WCB, A351 CF3, CF8, CF3M, CF8M, A995 4A, 5A, A352 LCB, LCC, LC2) Monel, Inconel, Hastelloy
STANDARD
| | |
| --- | --- |
| Design & manufacture | API 609, DIN3354 |
| Face-to-face | API609, DIN3202 |
| End Connection | ASME B16.5, ASME B16.47, MSS SP-44 (NPS 22 Only) |
|   | BSEN 1092 |
| Test & inspection | API 598,DIN3230,BS5146 |
| Fire safe design | API 6FA, API 607 |
| Also available per | NACE MR-0175, NACE MR-0103, ISO 15848 |
| Other | PMI, UT, RT, PT, MT |
Design Features:
1. The unique design of three-way eccentricity enables frictionless transmission between the sealing surfaces and prolongs the service life of the valve.
2. The elastic seal is produced by torque.
3. The clever wedge design makes the valve have the function of automatic sealing, the tighter and tighter the valve is, and the sealing surface has compensation and zero leakage.
4. Small size, light weight, light operation, easy to install.
5. Pneumatic, electric, hydraulic and manual devices can be configured according to user requirements to meet the needs of remote control and program control.
6. Replacement parts material can be applied to various media, and can be lining anti-corrosion.
7. Continuous structure diversification: clip, flange, butt welding.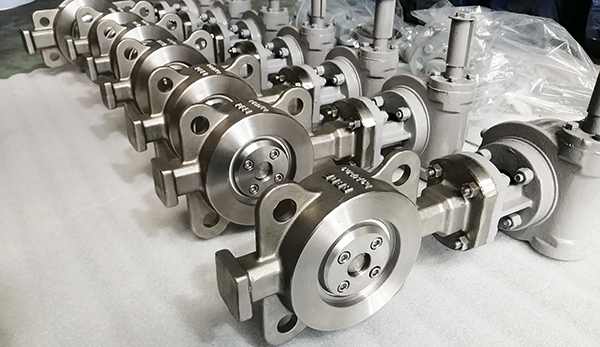 CD4MCU butterfly valve is a butterfly valve manufactured by CD4MCU.
The alloy CD-4MCu is basically ferrite, its yield strength is about twice that of 19Cr-9Ni austenitic alloy, and has high hardness, good tensile plasticity and satisfactory impact toughness. The combination of high strength and high hardness of the alloy with excellent corrosion resistance is particularly suitable for use under corrosive (including abrasion and erosion) working conditions. The corrosion resistance of alloy CD-4MCu in many corrosive media is better than that of CF alloy. It is widely used in strong acid working conditions of oxidation and reduction, and has special resistance to stress corrosion cracking in the environment with chlorine.
Therefore, CD4MCU butterfly valve not only has the performance of CD4MCU material, but also has the excellent performance of butterfly valve.
1. Butterfly valve has the characteristics of simple structure, small size, light weight, low material consumption, small installation size, rapid switching, 90° reciprocating rotation, and small driving torque. It is used to cut off, connect, and adjust the medium in the pipeline. Has good fluid control characteristics and closed sealing performance.
2. The streamlined design of the butterfly plate makes the fluid resistance loss small
3. Opening and closing is convenient and fast, labor saving, low fluid resistance, can be operated frequently
4. Under low pressure, a good seal can be achieved
5. The opening and closing torque is small, because the butterfly plates on both sides of the rotating shaft are basically the same under the action of the medium, and the direction of the torque is opposite, so the opening and closing are more labor-saving
6. Easy installation. Flexible and labor-saving operation, you can choose manual, electric, pneumatic, hydraulic mode
If you need more details about valves please contact NSW(newsway valve) sales department
---
Previous:
C95800 globe valve
Next:
F317 Y globe valve
---
Newsway Valves Materials
NSW valve body and trim material can be offered in Forged type and Casting type. Next to stainless and carbon steel material, we also manufacture valves in special materials such as titanium, nickel alloys, HASTELLOY®*, INCOLOY®, MONEL®, Alloy 20, super-duplex, corrosion resistant alloys and urea grade materials.
Available materials
| | | | | |
| --- | --- | --- | --- | --- |
| Tradename | UNS nr. | Werkstoff nr. | Forging | Casting |
| Carbon steel | K30504 | 1.0402 | A105 | A216 WCB |
| Carbon steel |   | 1.046 | A105N |   |
| Low Temp Carbon steel | K03011 | 1.0508 | A350 LF2 | A352 LCB |
| High Yield steel | K03014 |   | A694 F60 |   |
| 3 1/2 Nickel steel | K32025 | 1.5639 | A350 LF3 | A352 LC3 |
| 5 Chrome, 1/2 Moly | K41545 | 1.7362 | A182 F5 | A217 C5 |
| 1 1/4 Chrome, 1/2 Moly | K11572 | 1.7733 | A182 F11 | A217 WC6 |
|   | K11597 | 1.7335 |   |   |
| 2 1/4 Chrome, 1/2 Moly | K21590 | 1.738 | A182 F22 | A217 WC9 |
| 9 Chrome, 1 Moly | K90941 | 1.7386 | A182 F9 | A217 CW6 |
| X 12 Chrome, 091 Moly | K91560 | 1.4903 | A182 F91 | A217 C12 |
| 13 Chrome | S41000 |   | A182 F6A | A351 CA15 |
| 17-4PH | S17400 | 1.4542 | A564 630 |   |
| 254 SMo | S31254 | 1.4547 | A182 F44 | A351 CK3MCuN |
| 304 | S30400 | 1.4301 | A182 F304 | A351 CF8 |
| 304L | S30403 | 1.4306 | A182 F304L | A351 CF3 |
| 310S | S31008 | 1.4845 | A182 F310S | A351 CK20 |
| 316 | S31600 | 1.4401 | A182 F316 | A351 CF8M |
|   | S31600 | 1.4436 |   |   |
| 316L | S31603 | 1.4404 | A182 F316L | A351 CF3M |
| 316Ti | S31635 | 1.4571 | A182 F316Ti |   |
| 317L | S31703 | 1.4438 | A182 F317L | A351CG8M |
| 321 | S32100 | 1.4541 | A182 F321 |   |
| 321H | S32109 | 1.4878 | A182 F321H |   |
| 347 | S34700 | 1.455 | A182 F347 | A351 CF8C |
| 347H | S34709 | 1.4961 | A182 F347H |   |
| 410 | S41000 | 1.4006 | A182 F410 |   |
| 904L | N08904 | 1.4539 | A182 F904L |   |
| Carpenter 20 | N08020 | 2.466 | B462 N08020 | A351 CN7M |
| Duplex 4462 | S31803 | 1.4462 | A182 F51 | A890 Gr 4A |
| SAF 2507 | S32750 | 1.4469 | A182 F53 | A890 Gr 6A |
| Zeron 100 | S32760 | 1.4501 | A182 F55 | A351 GR CD3MWCuN |
| Ferralium® 255 | S32550 | 1.4507 | A182 F61 |   |
| Nicrofer 5923 hMo | N06059 | 2.4605 | B462 N06059 |   |
| Nickel 200 | N02200 | 2.4066 | B564 N02200 |   |
| Nickel 201 | N02201 | 2.4068 | B564 N02201 |   |
| Monel® 400 | N04400 | 2.436 | B564 N04400 | A494 M35-1 |
| Monel® K500 | N05500 | 2.4375 | B865 N05500 |   |
| Incoloy® 800 | N08800 | 1.4876 | B564 N08800 |   |
| Incoloy® 800H | N08810 | 1.4958 | B564 N08810 |   |
| Incoloy® 800HT | N08811 | 1.4959 | B564 N08811 |   |
| Incoloy® 825 | N08825 | 2.4858 | B564 N08825 |   |
| Inconel® 600 | N06600 | 2.4816 | B564 N06600 | A494 CY40 |
| Inconel® 625 | N06625 | 2.4856 | B564 N06625 | A494 CW 6MC |
| Hastelloy® B2 | N10665 | 2.4617 | B564 N10665 | A494 N 12MV |
| Hastelloy® B3 | N10675 | 2.46 | B564 N10675 |   |
| Hastelloy® C22 | N06022 | 2.4602 | B574 N06022 | A494 CX2MW |
| Hastelloy® C276 | N10276 | 2.4819 | B564 N10276 |   |
| Hastelloy® C4 | N06455 | 2.461 | B574 N06455 |   |
| Titanium GR. 1 | R50250 | 3.7025 | B381 F1 | B367 C1 |
| Titanium GR. 2 | R50400 | 3.7035 | B381 F2 | B367 C2 |
| Titanium GR. 3 | R50550 | 3.7055 | B381 F3 | B367 C3 |
| Titanium GR. 5 | R56400 | 3.7165 | B381 F5 | B367 C5 |
| Titanium GR. 7 | R52400 | 3.7235 | B381 F7 | B367 C7 |
| Titanium GR. 12 | R53400 | 3.7225 | B381 F12 | B367 C12 |
| Zirconium® 702 | R60702 |   | B493 R60702 |   |
| Zirconium® 705 | R60705 |   | B493 R60705 |   |
Write your message here and send it to us